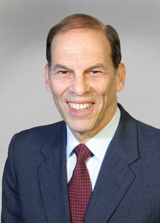 GENERAL OVERVIEW
Mr. Yusem's expertise runs the full gamut from negotiation through mediation (facilitative and evaluative), arbitration and litigation. In all of these capacities, he has served the construction industry from simply residential contract disputes to complex, multi-party, multi-million dollar cases.

The nation's leading law directory, Martindale-Hubbell, rates Mr. Yusem's legal ability as "very high to preeminent," and he has been named in Philadelphia Magazine as a "Super Lawyer" in Alternate Dispute Resolution, a distinction reserved for the top 5% of the profession.
EDUCATION
UNIVERSITY OF PENNSYLVANIA LAW SCHOOL, PHILADELPHIA, PA
J.D., 1963

CORNELL UNIVERSITY, ITHACA, NY
BA, economics, 1958

Adjunct Professor of Law (Dispute Resolution), Cornell University Law School.

PROFESSIONAL AFFILIATIONS
Mr. Yusem is an active member of the American Bar Association where he co-chairs its Arbitration Committee. He serves as a member of the Pennsylvania Joint State Government Commission Advisory Committee on Alternative Dispute Resolution, and is a Certified Mediator in the United States District Court for the Eastern District of Pennsylvania. He is an Associate Member of the Chartered Institute of Arbitrators, London, UK. Mr. Yusem is a Fellow of the prestigious College of Commercial Arbitrators, and is a member of the panel of Distinguished Neutrals of the CPR International Institute for Conflict Prevention. He is a member of the American Arbitration Association, and served as a member of its faculty, teaching advanced arbitration techniques, 1991-2004. He is a member of the Association for Conflict Resolution, having served as a director of its Commercial Section, 1992-2005. Mr. Yusem is a former president of the Montgomery County PA Bar Association, and a former chair of its Alternative Dispute Resolution Committee. He is also founding president of the Montgomery County Bar Foundation.