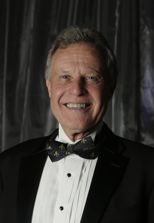 FRANK MORSE
GENERAL OVERVIEW
Frank Morse started his career in the construction industry in 1973 as a foreman for a commercial construction company in New Orleans. In 1975 he started his own contracting company, Morse Homes, Inc., which was incorporated in 1979, specializing in speculative housing, multi-family, and land development until the late 1980's. Due to a downturn in the economy, Frank moved into the upscale residential construction industry, building homes from 1.5 million to 3.2 million while still continuing his partnership in land development. To date, Frank's construction company, with the help of his wife, Teri and son, Scott, continues to build on his reputation of high quality, detail oriented and technologically advanced housing.
PROFESSIONAL EXPERIENCE AND ASSOCIATIONS
Home Builder's Association of Greater New Orleans – Treasurer
Louisiana Homebuilder's Association – Board of Director
National Association of Homebuilder's – Board of Director
a.

Member Appraisal Task Force

b.

Member Housing Finance Committee

1.

Member of Housing Finance Sub-committee
Chairman – Mold Task Force – State of Louisiana (2 years) -2014-2016
Owner/President -Morse Homes, Inc. – 1975 to present
Foreman, Granada Construction Company – New Orleans La. – September 1972-November 1974
New Orleans Police Department – Patrolman (Tactical Unit) – January 1970 – March 1972
Awarded Class B Medal of Merit
ARBITRATION AND MEDIATION CERTIFICATION
CERTIFICATION AND TRAINING THROUGH CONSTRUCTION DISPUTE RESOLUTION SERVICES, LLC. FOR ARBITRATION, DISPUTE REVIEW BOARDS AND ADVANCED ALTERNATIVE DISPUTE RESOLUTION.
COMMUNITY ACTIVITIES
1. SERVES AS LEGISLATIVE CO-CHAIR FOR THE HOMEBUILDER'S ASSOCIATION OF GREATER NEW ORLEANS

2.

MEMBER REAL ESTATE COMMITTEE FOR ENGLISH TURN SUBDIVISION, NEW ORLEANS, LA.

3.

MEMBER OF ARCHITECTURAL REVIEW COMMITTEE FOR ENGLISH TURN SUBDIVISION, NEW ORLEANS, LA.

4.

LIASION FOR HOME BUILDERS ASSOCIATION OF GREATER NEW ORLEANS WITH PLAQUEMINES ASSOCIATION OF BUSINESS AND INDUSTRY

5.

Chairman, Mold Task Force, state of Louisiana