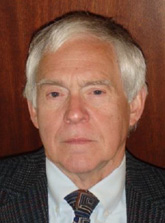 ROBERT ROOP P.E., CBIE




A Professional Engineer licensed in NJ, PA, MA, NY, DE, CT, RI, VT and MN, Robert Roop has 47 years' experience with an emphasis on building evaluations and remediation design. He has worked as an expert in evaluating warranty claims for construction defects, provided numerous repair designs and monitored construction quality.
OVERVIEW
Robert N. Roop, P.E. is President (and founder) responsible for operations and execution of all engineering projects at Lockatong Engineering, Inc. The focus of the firm is comprehensive investigations of site, mechanical, electrical, structural, roofing, life safety systems and environmental conditions of property and buildings. Mr. Roop has over 47 years of experience in facility and environmental engineering. His technical expertise and experience includes investigations, technical feasibility studies, prototype/pilot plant design and evaluation, final design and installation of processes and commercialization of product. He has conducted inspections of building and equipment for assessment of conditions, due diligence and compliance with Life Safety Code. Investigations also include environmental assessments and indoor air quality evaluations. He provides the design of repairs, improvements, and enhancements to improve efficiency, occupant comfort and life extension in existing structures. He has designed HVAC system upgrades and maintenance programs. Private residential, commercial (office, residential, light industrial) and institutional facilities such as schools and hospitals are the type of the properties where evaluations and design improvements have been provided. Property managers, real estate developers, condominium associations and institutional facility managers have found Mr. Roop's services to be beneficial.
PROFESSIONAL EXPERIENCE
Mr. Roop has personally conducted many hundreds of transition studies, reserve studies, property condition and environmental assessments on a wide variety of buildings. For several healthcare facilities, he provides building condition assessments, facility inspections, forensic investigations, and HVAC design. He has designed heating/cooling systems and utility distribution networks for hospitals and conducted Life Safety Code compliance inspections for their accreditation. Mr. Roop is a frequent invited speaker on institutional facility inspections and improvements.
He has conducted many hundreds of residential and building inspections for construction defects, deterioration and faulty maintenance. He has been a licensed New Jersey Home Inspector. Especially important in the Lockatong practice is evaluation of building envelope for water tightness and proper ventilation. Defects in envelope easily lead to rot, structural damage and poor indoor air quality. Repair designs from minor details to complete building reskinning have been prepared under his direction. Significantly, many construction defect remediation design projects employ Mr. Roop to perform construction monitoring to confirm the remediation design is faithfully executed.
For property developers, Mr. Roop has performed comprehensive environmental investigations and remediation at former industrial sites to allow their use for residential and commercial development.
Mr. Roop has worked as an expert in evaluating warranty claims for construction defects, and for a short time as a carpenter in residential and commercial construction projects. He has personally built two single-family homes for himself.
Currently, Mr. Roop provides construction quality assessments on new construction.
Earlier in his career, Mr. Roop conducted applied research and product development in waste water and waste water disinfection. He was responsible for the development of several state of the art chemical feed and analytical instruments widely used in public water supply systems. He holds several United States patents in water disinfection equipment.
EDUCATION
Bachelor of Science in Mechanical Engineering from Tufts University Master of Science in Environmental Engineering from Villanova University
PROFESSIONAL AFFILIATIONS
Professional Engineer registration in NJ, PA, MA, NY, DE, CT, RI, VT, MN
40 Hour Hazardous Waste Training, OSHA Standard 1910.120
New Jersey Certification: Underground Storage Tanks - All
Building Inspection Engineers Certification Institute
National Society of Professional Engineers – Past President, Bucks County Chapter
National Academy of Building Inspection Engineers – Vice President
Healthcare Facility Management Society of New Jersey – Advocacy Chairman
American Society for Healthcare Engineering
American Society of Heating, Refrigeration and Air Conditioning Engineers
National Fire Protection Association
The National Council of Examiners for Engineering and Surveying
Community Associations Institute, New Jersey Chapter
RECENT PUBLISHED ARTICLES
It Was a Dark and STORMY Night, Community Trends, August 2017
Thar She Blows, Community Trends, May 2017
Call For Construction Monitoring, August 2016
Sound and Your Fitness Faculty, April 2016
The Case for Invasive Transition Inspections, Community Trends, May 2015
Flood Insurance Rates – Storm Warning, Community Trends, September 2014
Radon Impacts Your Association, Community Trends, August 2014
Fire Stopping in Construction, Community Trends, June 2013
Fit in a Fitness Center, Community Trends, April 2019
Let's Maintain Our Property Values, Community Trends, January 2019
Getting Into the Weeds, Community Trends, November 2018
To Bid or Not to Bid, Community Trends, April 2018
RECENT PRESENTATIONS
Disaster Recovery, NABIE Annual Conference, February 17, 2018
Manager Best Practices Roundtable, CAIN-NJ, May 16, 2017