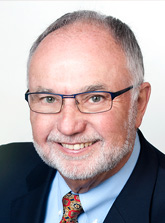 PETER SCHKEEPER, P.E.




Recipient of the 2009 New Jersey Society of Professional Engineers Distinguished Engineering Service Award Named in 2010 a Fellow member of the National Society of Professional Engineers Named in 2011 a Fellow member of the National Academy of Building Inspection Engineers
OVERVIEW
Peter brings over thirty years of professional engineering, construction, and manufacturing experience achieving engineering, quality assurance, and manufacturing expertise including plant and building design and construction, electro-mechanical fluid control component and system expertise for Military, Aerospace, Nuclear Power, Industrial, Analytical Instrumentation and Clinical Instrumentation applications. Experienced public company Lead Independent Director that stimulates strategic planning, creative problem solving, and forensic engineering to Board oversight of risk management. Maritime expertise includes ocean sail and power, waterfront construction, and ship repair.
1/1/93 SCHKEEPER LLC, (Formerly Marpet Consultants, Inc.) Red Bank, New Jersey President. Professional Engineering Inspection and Investigative Engineering Services with emphasis on waterfront, historic, commercial, and industrial buildings. Comprehensive condition studies include Structural, Electrical, Mechanical, Plumbing, and Property. Testing services are also provided. In addition Schkeeper LLC provides problem solving Management Consulting and Investigative Engineering services for individuals and companies including forensic engineering and expert testimony.
1972-1992 VALCOR ENGINEERING CORPORATION, Springfield, New Jersey Instrumental in the growth of this privately held engineering design and manufacturer of specialty electro-mechanical fluid control products, components and systems. Responsible for all plant management including design and construction from a simple machine shop operation to a state of art CNC manufacturing facility meeting the most stringent demands of Aircraft, Aerospace, and Nuclear Power specialty engineered product requirements. Directed engineering design reviews to solve issues concerning specifications, applicable codes, stress analysis, mechanical, electrical, fluid handling, qualification testing and manufacturability. Code and regulatory experience included ASME, BOCA, IEEE, Mil Spec, NASA, NRC, OSHA, Mil 9858A, ISO 9000, etc. Introduced computer technology for computer aided design and analysis. Supervised and developed engineers for all aspects of analysis, design, and manufacturing. Positions ranged from Plant Manager to Corp. V.P. and Division President.
1970-1972 MARPET CONSULTANTS INC., Somerville, New Jersey Consultant. Conducted engineering facility, productivity, site location, and organization improvement studies for clients. Implemented improvement programs, including a successful turnaround, for firms in electronic and scientific instrument manufacturing and automotive aftermarket distribution.
1966-1970 U.S. COAST GUARD, Yerba Buena Island Industrial Base, California. After completing USCG Officers Candidate School in 1967 (Class President) became Industrial Manager, military equivalent of Plant Manager, responsible for shipyard, building construction, and manufacturing operations at the base. Directed over 100 civilian and military personnel in ship repair, carpentry and construction, electronics, engine rebuilding, buoy repair and lighthouse automation. Completed tour of duty with rank of Lieutenant.
EDUCATION
1966 BSIE, New Jersey Institute of Technology, Newark, New Jersey (Mechanical Engineering with Management Option) Graduate courses in engineering, accounting, finance and general management at University of California, Berkeley, and Rutgers. Regular attendance at NACD and KPMG seminars. Frequently taking courses for engineering, construction, and inspection, including structural, electrical, mechanical, and plumbing.

RECENT PUBLICATIONS
Lead Author of the book: The Smart Consumers Guide to Home Buying, published by Barrons March 2008
Co-Author: SOX, Risk, and an Engineer on Board, published by NACD – Directors Monthly July 2008
Author: On the Home Front, published by the National Society of Professional Engineers April 2009
Author: Physical Exam of Aging Buildings, published by George Mason Univ. Center for Infrastructure Protection Oct. 09
Plus various technical papers and a contributor to the 2000 FEMA Coastal Construction Manual
PROFESSIONAL ACTIVITIES & LICENSES
Licensed Professional Engineer (P.E.) (1972, # GE 19632) New Jersey
Board Certified Building Inspection Engineer #22
NJ Building Subcode and Construction Official: ICS: Building, Electrical & Plumbing; #006644
NJ Home Inspector License No. 24GI00027800
NJ EIFS Special Inspector and EDI Certified Building Envelope level II, No. NJ-24
Fellow, National Society of Professional Engineers
Fellow, Past President, National Academy of Building Inspection Engineers
Life Member, American Society of Mechanical Engineers
Member, American Society of Civil Engineers Member, American Society of Heating, Refrigerating and Air Conditioning Engineers Professional Member, International Code Council
Member, Eastern Monmouth Area Chamber of Commerce, past Board member
Lead Independent Director, Board of Directors, New Brunswick Scientific Co., Inc. 1999-2007 (Nasdaq: NBSC)
Past President, Mara Vista Condominium Association
Past President, Kenilworth Manufacturers Association
Past Member, Board of Directors, Employers Association of New Jersey
U.S. Merchant Marine Officer Master's License # 689413 (expired)