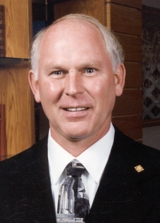 LONNY RUTHERFORD
GENERAL OVERVIEW
Lonny Rutherford has worked in the construction business all of his adult life and assisted his father in construction projects as a teen providing him with over 40 years of experience in the construction industry. His father's saying was "This is what we have to do, so we have to figure out how to do it." Nothing was beyond his abilities and he taught Lonny these skills. Being an entrepreneur, Lonny is currently president of Legacy Construction, Inc. (License #86288 GB98) primarily engaged in remodeling, design and custom home construction, managing the business while remaining "hands on" for the design work and project management. He will still put on his nail bag if the occasion arises.
Lonny has also served the industry as 1995 President of San Juan County Home Builders Association, initiating the local Home & Garden Show which has become the major fund raising event for the local chapter, 1998 President of New Mexico Home Builders Association, Trustee of the National Association of Homebuilders Remodelors Council for the maximum six year term from 1996 through 2001, National Representative for NMHBA for 2000 and 2001, State Representative for NAHB for 2003 through 2005, Chairman of the NAHB Remodelors Council Membership & Council Development Committee for 2000, initiated the local Remodelor's Council in 2004 and currently serving as Chairman of the Council, Chairman for the City of Farmington Capital Improvement Advisory Committee from 1997 through 2005, and has served on the San Juan College Carpentry Advisory Committee since 1997. Lonny is a 1996 graduate of Leadership San Juan.
Because of Lonny's experience in the construction industry and his involvement in the local, state and national organizations he remains current with construction standards, problems facing the industry and dispute resolution.
EDUCATION
Lonny graduated high school in 1964 and went directly to a private Theological Training School where he took all classes offered, which at that time was just shy of a bachelor's degree. For five years after schooling, while continuing to work in the Construction industry, he served as an Associate Pastor.
Lonny received the designation of Certified Graduate Remodelor (CGR) in 1995 after completing the extensive educational and experience requirements. He is a certified installer of Duradeck waterproof decking, certified Pella window installer and Avonite solid surface certified fabricator. He remains current in construction practices, new products and business management by attending classes at the annual Remodelor's Show as well as the annual International Builder's Show.
Lonny has been the instructor with San Juan College Small Business Development Center and New Mexico Homebuilders Association presenting a class he designed, along with his wife who is a CPA, "Managing Your Construction Business." Lonny has also served as moderator of several round table discussion groups at the National Home Builder's Association convention continuing education forums.
Lonny has now completed training in mediation and arbitration with courses at the New Mexico School of Law and CDRS of Albuquerque, New Mexico. He has served as an expert witness in several cases ranging from mold invasion to structural integrity of a home.
INDUSTRY AWARDS & RECOGNITION
Housing Journal, New Mexico Home Builders Association September, 2005 Cover picture depicting his award winning remodel project.

National Home Builders Association Remodelor of the Year, 2001

Professional Remodeler Magazine's model reMODEL, 2003

NMHBA Don Martin Leadership Award (Formerly Builder of the Year), 2002

Metal Architecture Magazine – Jicarilla Apache Senior Citizens Center, 1997 – Builder

Better Homes and Gardens Magazine Merit Award winner for residential remodeling project, 1993
NEW MEXICO HOME BUILDERS ASSOCIATION – HOUSING EXCELLENCE AWARDS:
Grand Award – Remodeler, 2005
Best Remodeled Project Design Over $250,000, 2005
Best Remodeled Project Built Between $50,000 and $99,999, 2003
Best Remodeled Project Built Between $150,000 and $199,999, 2001
Best Black & White Ad, 1999
Remodelor's Council Chairman's Award for Outstanding Design, Craftsmanship and Innovativeness in Home Building, 2004.
ASSOCIATIONS
National Association of Homebuilders

New Mexico Home Builders Association

San Juan County Home Builders Association

National Association of Home Builders Remodelors Council