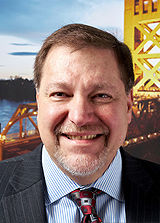 GENERAL OVERVIEW
Jeffrey Pemstein has over 30 years of professional leadership experience in land development, home building, and construction. Since completing degrees from both Occidental College and Cornell University, Jeff has enjoyed a successful career that includes land planning, environmental permitting, infrastructure development, public facility finance and project/program management involving cities and counties, State and federal agencies, and special districts as well as private landowners and the building community. He has served in several executive and leadership positions in both business and government, including the founding of Pacific Municipal Consultants (PMC) 1994 to 2002, a 120-person planning and environmental consultancy, and serving as the first Executive Director for the Yolo County HCP-Joint Powers Authority.
As the Division President for Towne Development/Homes by Towne - Sacramento Division (a Zilber Brand) since 2003, Jeff has overseen the growth of the operation into four business lines in both California and Nevada, which include Towne Development (land acquisition and development), HBT Construction (new home building), HBT Remodeling (remodeling and affordable housing construction) and The RCH Group (real estate advisory and consulting). Building both single- and multi-family communities with a staff of 50 employees, he is responsible for all aspects of the business from acquisition to entitlements, site work, vertical construction, sales and customer service and warranty claims.
Jeff is actively engaged in the Building Industry Association, having served as the Chair of the California Building Industry Association (CBIA), National Area Chair and State Representative to the National Association of Home Builders, and a former local Board Chair to the North State Building Industry Association (2010). In 2015, Jeff was selected for induction into the California Homebuilders Hall of Fame. He is also involved with various civic and charitable activities.
EDUCATION
M.A., Urban and Regional Planning, Cornell University, Ithaca, NY (1985)
B.A., Urban Economics, Occidental College, Los Angeles, CA (1983)
B.A., Sociology, Occidental College, Los Angeles, CA (1983)
PROFESSIONAL AFFILIATIONS
Chair, California Building Industry Association (2017)
National Area Chair (Area 14), Nation Association of Homebuilders (2012-2015, 2019-)
State Representative, National Association of Homebuilders (2016 to 2018)
Past Chair, Board of Directors North State Building Industry Association (2010)
Flood Control and Water Resources Advisor to Sacramento Mayor Kevin Johnson
Founding Board Member, North State Building Industry Foundation
Inductee, California Homebuilders Hall of Fame (2015)
Trustee, California Homebuilder Foundation (2011 to 2018)