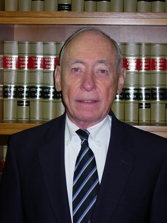 GENERAL OVERVIEW
Raymond Kerr has had a diversified legal career doing both trial work and transactional practice. While his practice has been diverse, construction law has always been emphasized. At one time or another Mr. Kerr has represented virtually every participant in the construction process including owner, lender, surety, developer, architect, surveyor, general contractor, various subcontractors, material suppliers, and material fabricators. He has litigated construction cases in state courts, federal courts, including litigation with the Corps of Engineers in the Board of Contract Appeals and the U. S. Court of Claims.

As an investor he has also developed single-family subdivisions and strip shopping centers.

DISPUTE RESOLUTION TRAINING & EXPERIENCE
He has had more than 500 hours of various mediation and arbitration trainings. He also has performed mediation and arbitration trainings and has been a frequent speaker on Alternate Dispute Resolution Programs in Texas.

He has performed more than 800 mediations and decided more than 100 arbitration matters involving the presentation of live testimony.

Representative cases he has handled include the following:
A mediated settlement of a multi-million dollar petrochemical plant construction dispute;


The arbitration of a multi-million chemical plant construction dispute between the general contractor and the piping subcontractor;

The mediation/arbitration of a homeowner-general contractor dispute concerning the restoration of a historically significant Houston residence;

The arbitration of a dispute between a major oil company and a major offshore drilling contractor concerning whether a specially fabricated semi-submersible offshore drilling rig was a "lemon";

The arbitration in New York City of a dispute between power plant developers in the U.K;

The mediation of an industry-wide patent infringement dispute related to a drill-bit design;

The mediation of a construction dispute involving a free-standing surgical facility between the owner and general contractor;

The arbitration of a dispute between the owner and the general contractor involving a 1,200,000 sq. ft. warehouse which was erected below the 100-year flood plain.

ADR PANEL AFFILIATIONS
Mr. Kerr is a Panelist with many providers of ADR services including the American Arbitration Association (AAA) - Arbitration & Mediation; the National Association of Securities Dealers (NASD) – Arbitration & Mediation; Resolute Systems, Inc. – Arbitration & Mediation; the American Health Lawyers Association (AHLA) – Arbitration & Mediation; the Key Bridge Foundation as an arbitrator and mediator of disputes involving the Americans With Disabilities Act (ADA); Resolution Forum, Inc. – Arbitration & Mediation; the London Court of International Arbitration (LCIA); the International Court of Arbitration (ICC); the National Arbitration Forum (NAF) – Arbitration & Mediation; the New York Stock Exchange (NYSE) – Arbitration; International Centre for Dispute Resolution (ICDR) – Arbitration; and Construction Dispute Resolution Services, LLC (CDRS) – Mediation.
LEADERSHIP ACTIVITIES
Mr. Kerr is a former President of the Houston Bar Association, a former Director of the State Bar of Texas, and while serving in that capacity, was the Liaison to the State Bar ADR Task Force. He also served as Trustee of the Texas Bar Foundation and was Chairman of it in 1995. He has served as Editor of Books and Media for the ABA Section of Real Property, Probate, and Trust Law. He is a Member of the Association of Attorney-Mediators, served as a Director of that organization and was Treasurer. He is an Advisory Board Member of the Institute for Energy Law of the Center for American and International Law. He is also an Advisory Board Member of the Frank Evans Center International Institute for Responsible Conflict Resolution. He also is a Member of the Association for Conflict Resolution and the Houston International Arbitration Club. He has performed numerous MCLE appearances as a speaker on commercial and construction litigation, mediation, arbitration, and ethics. He is a Member of the College of the State Bar of Texas and has received an AV rating by Martindale-Hubbell.
EDUCATION
Mr. Kerr received a Bachelor of Business Administration with a major in Accounting from the University of Oklahoma in 1957. While serving as a Lieutenant in the Air Force, he completed the course work for a M.B.A. at Wichita State University. He obtained his J.D. degree from The University of Texas in 1964.

PROFESSIONAL LICENSES
He is admitted to the State Bar of Texas, the United States District Courts for the Southern, Eastern, and Northern Districts of Texas, the Fifth Circuit, the U.S. Court of Claims, and the U. S. Tax Court.