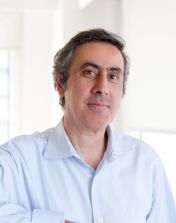 RAFFI ZAROUKIAN
GENERAL OVERVIEW
Mr. Zaroukian has a Bachelor of architecture degree from University of Montreal, Canada and is a licensed Architect in the state of California. He has over 25 years of experience in the AEC industry with a practical experience working in the United States, Canada and the Middle East. He is well‐versed in the current methods of construction, building and accessibility codes and Sustainable and Efficient Energy Standards.
Throughout his career, Mr. Zaroukian has been involved in a diverse range of projects including Luxury Homes, Multi‐Unit residential developments, Office Buildings, commercial Multi‐Use complexes, Life Sciences Research and Production Facilities, Cleanroom and cGMP (current Good Manufacturing Practice) environments, Research and Development Facilities, Higher Education Campus Buildings and Athletic Complexes. Projects costs range from two million dollars to over two hundred million dollars. His project roles include Project coordination, Project design, Project Management and Construction Administration. Mr. Zaroukianís responsibilities include managing in‐house teams of architects and designers, managing and coordinating multi‐disciplinary teams of consulting engineers and design build contractors, coordinating and managing owner relationships. Project delivery methods include traditional design-bid-build, design-build, Fast Track, GMP (Guaranteed Maximum Price) and IDP (Integrated Delivery Process).
Mr. Zaroukians involvement in all phases of construction projects and wide range of responsibilities put him in the unique position of integral understanding of the construction process, from initial design to construction and commissioning. As a Humanist, his active participation with all parties involved provides him insight into the interpersonal relationships between the parties. He combines his passion for fair and equitable resolution with his thorough understanding of the construction process to bring peaceful and agreeable closure to construction projects, for all parties involved.
Mr. Zaroukian is also an award‐winning artist and a pragmatic Life Coach. His art is an expression of Inner Peace and Personal Fulfilment. He incorporates his art into his projects as integral building features or as stand‐alone works of art. As a Life Coach, he helps professionals who feel stuck in a job they are not passionate about to take the next steps towards achieving their dream careers.