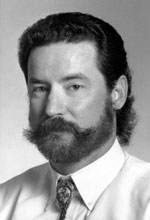 R. LAR THOMAS
GENERAL OVERVIEW
R. Lar Thomas has been a lawyer licensed in all courts in the State of New Mexico and several other jurisdictions for over 15 years. He is also admitted to practice in the 9th and 10th Circuit Court of Appeals. His practice has primarily focused on construction and environmental law for over 10 years.
He has a GB98 Residential and Commercial Construction License for the State of New Mexico and has been personally involved in both remodeling and new house construction for many years. He has hands-on experience as a laborer, framer, roofer, concrete finisher and many other construction specialties. He also has served as an "In House Risk Manager" for a major commercial construction company for several years.
Mr. Thomas has been certified by the courts of New Mexico as an arbitrator, mediator, and settlement facilitator and he has served in these capacities each year for the first, second, seventh and thirteenth judicial districts. Over the years, he has conducted several mediations and arbitrations relating to the construction industry. As an attorney, he has also represented many contractors, subcontractors, suppliers and the public in mediations, arbitrations, and in civil litigation related to the construction industry. He has also served as an expert witness in numerous court cases and arbitrations. He has had extensive dispute resolution training and understands the importance of being a neutral and independent dispute resolution specialist. Mr. Thomas has also served as the Presiding Judge and now serves as the Alternate Judge for the Village of Bosque Farms, New Mexico.
EDUCATION
In 1986, Mr. Thomas received a Bachelor of Science Degree from the Utah State University in Logan, Utah. In 1989, he received a Juris Doctorate Degree from the Mississippi College School of Law in Jackson, Mississippi. Throughout his career, he has attended a great number of Legal Education seminars in the areas of construction law, public contracts, procurement codes, Subcontractors Fair Practices Act, Retainage Act, lien laws, the Large and Small Miller Acts, construction scheduling claims, construction change orders, construction claims and many other construction topics.
In addition to his law school training, he has completed numerous hours of training for Mediators and Arbitrators sanctioned or approved by the State Bar of New Mexico.
PROFESSIONAL AFFILIATIONS
Mr. Thomas is a member of the American Bar Association, the Procurement Law Section, the Construction Specifiers Institue, the State Bar of New Mexico, the National Association of Home Builders, the New Mexico Home Builders Association, the Associated General Contractors, and the National Association of Industrial and Office Properties.
He serves as a member of the New Mexico Environment Department taskforce involving Primacy of the NPDES program for New Mexico. He also serves as a consultant for the City of Albuquerque Legal Department (Building Contracts) and participates with many coalitions interested in construction issues.
Mr. Thomas serves on many committees for the various associations and organizations that he is affiliated with including the AGC Education Committee and the AGC Legislative Rapid Response Team.
SPECIALIZATIONS
Mr. Thomas and his wife, Roxanne, own Cleanwater Consulting, a corporation formed to help educate contractors in environmental compliance for the construction industry. He assists owners, developers, and contractors in maintaining compliance with the Clean Water Act and the National Pollutant Discharge Elimination System (NPDES). He provides training for competent persons who will then be qualified to conduct Storm Water Pollution Prevention Plan (SWPPP) inspections. He also drafts SWPPPs for private and public projects. Mr. Thomas continues to provide seminars on Storm Water Issues and other environmental issues for the New Mexico Home Builders Association, the Associated General Contractors and several other associations and organizations affiliated with the construction industry.