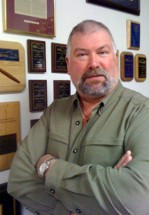 PAUL MICHELSOHN
GENERAL OVERVIEW
Paul has been in the construction industry and a licensed General contractor since 1977. He specializes in residential and light commercial construction, completing over 350 custom homes, 5 commercial buildings, and many additions and renovations to both residential and commercial properties.

Paul moved to Alaska from Long Island, NY in 1974. He started Michelsohn Construction specializing in roofing and siding sales and installation. At the birth of his first daughter, he renamed the company Michelsohn and Daughter Construction, Inc. He became a licensed General Contractor in 1977.

Paul has been an active member of the National Association of Home Builders on local, state and national levels. He has been appointed to national committees for Construction Codes and Standards since 1992, and has continually served on numerous subcommittees such as Building Codes and Standards, Energy Sub-committee, Construction Technology Research Committee, International Code Council Committee, Fire and Life Safety Code Committee, Fire Sprinkler Committee and the International Residential Code Committee. He was also instrumental in the development and re-writes of framing manuals distributed by the NAHB bookstore.

On a state level, Paul has served on the Board of Directors since 2004 and is currently serving as Treasurer for the 2011 term. He was awarded "Alaska Builder of the Year" in 2009.

On a local level for the Anchorage Home Builders Association, he is a Life Director as well as a Life Spike (recruited over 50 members), and served as President in 1998 and 2014. He has also had involvement in the development and maintenance of building codes for the Municipality of Anchorage. He served on the Board of Building Regulations Examiners and Appeals for two six year terms and chaired the committee in 2008. He served as Chairman of several code review cycles instituting amendments and policies from 1992 to 2006. He also was involved with several working task forces for Anchorage contributing to issues as codes, fee schedules, code amendments, and working relations between city employees and the building industry.

He has been a Rotarian since 1994, currently serving on the Board of Directors and served as the Sergeant of Arms in 1998. He has also been active in the Alaska Water Fowl Association, serving as President from 2006-2010, and has been a member of Ducks Unlimited for over 10 years.