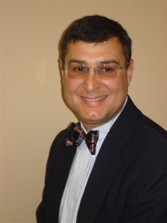 GENERAL OVERVIEW
MICHAEL F. SAYDAH is a full time neutral mediator, arbitrator and umpire known for his ability to resolve cases involving a broad range of civil litigation issues from small, to mid-size, to large complex multi-party cases.
His approach is a straightforward and practical one based on a litigation and trial background, using innovative, creative and responsible solutions to resolve the partiesí disputes. Mr. Saydah is highly effective in facilitating communication, encouraging understanding and focusing the parties toward resolution. He possesses a talent for assessing cases and providing insight in an impartial, fair and ethical manner. He is driven to resolve disputes in the most fair, equitable and cost efficient manner. His reputation for honesty and integrity is without question and he is an ďAVĒ rated lawyer by his peers through Martindale-Hubble.
Mr. Saydah is dedicated to being accessible and responsive to the parties and their principals, being flexible, treating each case and party in the case with respect, being independent and fair, and above all, being efficient.
Mr. Saydah is experienced as a Neutral Arbitrator, Mediator and Umpire in the following areas:
Multi-party construction defect litigation (Commercial, Residential, Public Use projects (bridges, etc.)

Soils (subsidence, settlement and expansion)

Mold and Toxic Tort Claims and Property Damage

Construction Defect Arbitration

Warranty Claims

∑Condominium Associations and Cooperative Associations (Homeowners/Governing Documents/Disputes/Property Issues/Board of Directors)

Mechanics Liens and Stop Notices

Property Damage and Subrogation

Insurance Coverage

Insurance Appraisal/Umpire Hearings (Calif. Insurance Code Section 2071)

Products Liability

Governmental Tort Liability

Attorney Fee Re-allocation issues

Personal Injury and Catastrophic Injury

Construction Site Accidents (PI, PD)

Wrongful Death; Motor Vehicle Accident (Auto, Tractor/trailer, PI, PD, Subrogation)

Real Estate Contract, Appraisal Disputes, Disclosure and Nondisclosure

Americans with Disabilities Act (Physical Access, Compliance, Accommodations)

Employment Law (Harassment, Discrimination, wage & hour, age, orientation, etc.)

Medical, Legal, Engineering and other professional malpractice matters
In his mediation/arbitration practice he draws on his 32 years of practicing law where he negotiated, drafted and litigated contracts, construction and employment agreements, buy-sell agreements and leases, and financing obligations; managed business contractual obligations for agribusiness industrial farming and cattle feeding operations and specialized medical equipment. He litigated partiesí rights and obligations under indemnity agreements, real estate appraisals, CC&Rís and mechanics liens. Through his efforts in representing general contractors, developers and subcontractors he understands the practical aspects of construction projects including financing, insurance, scheduling, critical path, construction issues, building standards, contractual issues and real estate appraisal, disclosure and nondisclosure issues. He handled a broad range of civil litigation matters including personal injury, tractor/trailer claims, accidents and insurance (coverage), business contract disputes, property damage, real estate contract disputes, and employment disputes from inception through trial.
He also draws on his experience in starting two Construction Defect Departments and in-house legal offices for two major insurance companies. In this capacity he handled construction defect lawsuits, including insurance coverage issues and Cumis issues, as this genre of cases began in Southern California in the mid 1980ís. He handled all manner of cases from inception of the lawsuit through mediation, arbitration and trial on behalf of owners, subcontractors, general contractors and developers and insurance companies.
Notable cases he handled for subcontractor parties which resulted in published Calirfornia Supreme Court and Court of appeal opinions are: La Jolla Village Homeowners Association v. Superior Court (1989) 212 Cal.App.3rd 1131, 126 Cal.Rptr. 146, wherein the court of appeal refused to extend strict liability in tort to subcontractors of mass-produced homes; and, Aas v. Superior Court (2000) 24 Cal.4th 627, 101 Cal.Rptr.2nd 718, wherein the California Supreme Court limited the damages recoverable in a construction defect lawsuit to those measurable property damages resulting from a construction defect.
Admitted to the state bar in California in 1979 and all Federal District Courts in California, Mr. Saydahís practice includes Northern and Southern California. He holds a Bachelorís Degree in Economics from the University of New Mexico, Albuquerque, New Mexico and a Juris Doctorate from Western State University, College of Law, San Diego, California. He maintains an active status with the State Bar of California, bar number 90124.