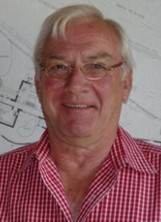 JOHN T. MIDYETTE III
GENERAL OVERVIEW
With 40 years as an Architect, licensed in 8 states, John has completed $275 million in residential and commercial projects. His expertise in specialized design criteria, alternative energy and integration of technical, aesthetic & budgetary criteria, earned John the respect of clients, contractors and fellow Architects. John is also a licensed New Mexico Real Estate Broker. Resident of Santa Fe since 1966, and Principal of his own Architectural firm, John T. Midyette III & Associates, Architects, since 1970.

In his architectural practice of 40 years he has addressed large and small projects in the specialized areas of design practice. Projects such as museums, research facilities, medical complexes, education facilities, auditoriums and theaters as well as new residences and remodels. John has never been named in any mediation or arbitration due to excellent communication and working relationship between himself, his client and the project contractor.

During Johns career he has completed over 125 commercial type projects ranging from theaters, including the 1968 Santa Fe Opera, gallery's, restaurants, museums, shopping malls, office buildings, hotels and other projects requiring specialized design criteria. Some of the commercial projects have been for a number of the Indian Pueblos; Zia, San Felipe, Taos, & San Juan. These projects have been Educational Facilities, Community Centers, Health Clinics and Office spaces.

For the School of American Research in Santa Fe, he designed numerous museum research facilities, museum display spaces, offices and housing located on the campus.

He recently worked with the United World College, Las Vegas, NM - coordinating the design and remodeling of existing dormitories, conversion of old cafeteria to high tech computer center, conversion from central heating to individual systems at existing campus buildings and developing long range master planning for future development, landscaping and alternative energy applications for the 125 year old facility.

Over the past 40 years in private architectural practice he has completed over 375 residential projects ranging in complexity from small remodeling and additions to major residential projects consisting of over 15,000 sq. feet. In the process John has done numerous projects for the same clients in various parts of the country. He has completed projects on both coasts and in many of the states in between.
EDUCATION
Tulane University in New Orleans, Louisiana minor in theater and art and a Bachelor of Science in Architecture in 1967.

Tulane University in New Orleans, Louisiana - Masters of Architecture.

New Mexico Real Estate Broker completed courses, Real Estate Law, Real Estate Practice and Broker Basics.

Ongoing Continuing Education in many fields of professional practice, in addition to those required.
PROFESSIONAL REGISTRATIONS
National Council of Architect Regulation Boards Certificate 1971

Registered Architect in State of New Mexico 1970

Registered to practice architecture in Arizona, Colorado, California, Connecticut, Montana, Nevada, & Wyoming.

American Institute of Architects

New Mexico Real Estate Association

Realtors Associations of New Mexico

Santa Fe Association of Realtors
BOARDS AND COMMITTEES
El Rancho de las Golondrinas Board Member 1994 - current
Santa Fe Mayor Advisory Board, Canyon Road traffic and parking
Past Santa Fe Prep School Board Member, several terms
HGTV Special Programming - Several productions
This Old House production, Santa Fe Residence 1989
Buckaroo Ball consultant 1998 - 2000
Past Museum of Fine Arts Board Member
Featured in numerous publications