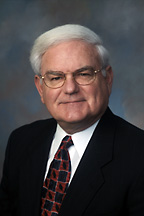 JACK MARCIL
GENERAL OVERVIEW
Jack G. Marcil has nearly 40 years of experience as a practicing attorney and as a neutral in alternative dispute resolution. His practice includes settling, mediating and litigating construction disputes. Mr. Marcil is also a frequent lecturer on ADR topics to various organizations. He also is an guest speaker at the University of North Dakota School of Law on arbitration.
EDUCATION
Mr. Marcil is a 1968 graduate of the University of North Dakota School of Law. From 1968-1969, he was an assistant to the Attorney General for the State of North Dakota. Since April of 1969, he has been involved in the private practice of law. He has been admitted to practice in the state and federal courts of North Dakota and Minnesota as well as the 8th Circuit Court of Appeals and The United States Claims Court. He has tried many jury cases to verdict. He has handled many appeals to the North Dakota Supreme Court and the Minnesota Appellate courts.
PROFESSIONAL AFFILIATIONS
Mr. Marcil is a member of the International Society of Barristers (invitation only), the International Academy of Trial Lawyers (invitation only), American Board of Trial Advocates (invitation only) and a past President of the North Dakota Bar Association (1989-1990). He is a certified trial specialist having met the standards for certification by the Minnesota State Bar Association and Civil Trial Certification Council. Since 1980, he has been certified as a civil trial advocate by the National Board of Trial Advocacy.
MEDIATION EXPERIENCE
Mr. Marcil is an arbitrator with the American Arbitration Association, and a neutral mediator in North Dakota and Minnesota. He has been mediating cases for over 14 years. He has been a trial lawyer and an advocate having been involved in many types of negotiations since he was admitted to the practice of law. He has been a mediator and arbitrator on numerous occasions for over 39 years. He has mediated approximately 1,000 cases, including approximately 50 construction cases. He has arbitrated over 410 cases, both as an advocate, and as a single arbitrator and a member of a tripartite panel. The arbitrations he has been involved in dealing with construction has included the following issues: construction defects; defective design; breach of implied and express warranties; failure to secure change orders; construction defects; failure to follow contract language; structural failure; scheduling and delays; site condition problems; heating, ventilation and air conditioning problems; plumbing problems; faulty foundation; property damage; personal injury; breach of contract; mold; water intrusion; building code violations; premises liability.