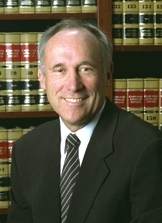 GENERAL OVERVIEW
Gene Royce was born in Tucson, Arizona on June 3, 1942. Since moving to San Diego in 1975, he has resided on Coronado Island. Mr. Royce received a Bachelor of Science degree in Mechanical Engineering from the University of Arizona in 1966. In 1969, he earned his Juris Doctor from the University of Arizona.
Mr. Royce began his career as a deputy district attorney in Los Angeles, California from 1969 until 1970. From 1970 to 1975 he practiced law in Riverside County with the firm of Thompson & Colgate. He was a partner in the law firm of Royce, Grimm, Vranjes, McCormick & Graham from 1975 to 2003. Mr. Royce is currently working Of Counsel to the firm of Campbell Volk & Lauter.
He is admitted to practice before all the courts of the State of California, the United States District Courts for the Southern and Central District of California and the United States Court of Appeals, Ninth Circuit. He is a member of the California State and Arizona State Bar. Mr. Royce is also a registered patent attorney with the U.S. Patent and Trademark Office (No. 38,291).
Education
University of Arizona (BS, Mechanical Engineering - 1966; JD - 1969).
Professional Licenses
Admitted to the Bar: Arizona, 1969; California, 1970; U.S. Patent and Trademark Office, 1994.
Professional Affiliations
Member, American Board of Trial Advocates

Judge Pro Tem, San Diego Superior Courts

Member, American Bar Association

Member, Arizona and California Bar Associations

Arbitrator, San Diego Superior Court

Martindale Hubbell A-V rated
Specializations
Mr. Royce has worked in insurance defense for 32 years, handling all types of construction cases. The law practice involved construction law mattes, representing general contractors and subcontractors in 300 to 500 cases involving construction defects. Projects include private commercial, residential, and industrial projects ranging in value from $300,000 to $5 Million.
Has tried over 100 jury trials to conclusion including personal injury, construction claims/counter claims and intellectual/licensing matters. Construction defect cases involved grading, roof and window leaks, stucco installation, framing and deck installations.
Mr. Royce has served as arbitrator in many cases and as a mediator for the San Diego Superior Court. Types of disputes handled include personal injury, construction defects, and intellectual property litigation.