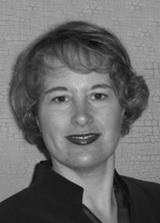 ELIZABETH A. MORENO
GENERAL OVERVIEW
Elizabeth A. Moreno combines her practical no-nonsense approach with her construction and business knowledge to make an outstanding dispute resolutionist in the construction arena. As a litigator handling multi party construction disputes on behalf on insurers and private parties, she understands the nature of the construction industry and on how to effectively resolve issues. Her construction knowledge is primarily in residential disputes. She has in depth knowledge regarding land subsidence in the Southern California area and has litigated over 200 cases involving land subsidence, slope failures and mud slides.
On a personal level, she works closely with a sibling who is a general contractor, primarily residential, and has extensive knowledge in the construction of residential properties.
EDUCATION
California State University, Fresno

1980 Bachelor of Arts History, cum laude

Honors: Phi Kappa Phi; Pi Gamma Mu

Loyola Law School

Los Angeles, California

1984 Juris Doctor
2000- present over 150 hours of Mediation Training through the following entities:
The Alliance for Education in Dispute Resolution and the Cornell/PERC Institute on Conflict Resolution
New York, New York
Employment Law/EEOC Mediator Training
Straus Institute- Pepperdine Law School
Advanced Mediation Courses
DISPUTE RESOLUTION EXPERIENCE
ADR PANELS
Los Angeles Superior Court- Paid Mediator Panel

United States District Court - Settlement Officer

Resolute Systems, Inc. Milwaukee, Wisconsin – Arbitrator and Mediator Panel

Kern County Superior Court Mediator Panel

U. S. D. A. – Forest Service - Mediator Panel

National Arbitration Forum- Mediator- Right to Repair Construction Panel

Kaiser Permanente Arbitrator Panel

Better Business Bureau Arbitration Panel

Administrative Hearing Officer – Long Beach and Santa Monica

Judge Pro Tem- Municipal Court of Los Angeles County

Small Claims and Traffic Court (1995- 2001)

Arbitrator Los Angeles Superior Court (1995-1998)

Elizabeth A. Moreno, A Professional Corporation dba EAMPC

A California Certified minority woman owned business (DBE).

Los Angeles, California

October 2002 -present

Private mediator and arbitrator. Real estate/construction, employment, business, personal injury and insurance. Mediates 70 cases per year.

Federal Government GSA Contract Holder Number GS10F0208R
PROFESSIONAL ORGANIZATIONS AND COMMITTEES
The American Bar Association

Dispute Resolution Section

Diversity Committee- Chair (2005-present)

Southern California Mediation Association

Diversity Committee Chair (2004-2005)

California Minority Counsel Program

California State Bar

Labor and Employment Law Section

The Los Angeles County Bar Association

Labor and Employment Section
COMMUNITY SERVICE
Mar Vista Landkeepers' Preservation

A Nonprofit Corporation

Founder and CFO (2003-present)

Professionals in Human Resource (PIHRA)

Member (1997- present)

Mar Vista Neighborhood Association-

Board Member (2000-2004)

National Multiple Sclerosis Society (1990-1996)

Advised regarding Disability Employment Issues

Served on the Westside Board

West Los Angeles Chamber of Commerce

Member (2003-present)

California Junior Chamber of Commerce

Member (1992-1995)
PUBLISHED ARTICLES AND PREVIOUS WORK EXPERIENCE CAN BE FOUND AT WWW.EAMPC.COM.