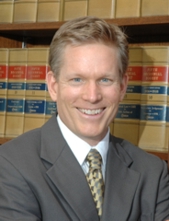 GENERAL OVERVIEW
Mr. Argue was born in Pasadena, California in 1964. He graduated cum luade with a bachelor of arts from San Diego State University in 1986. He earned his Juris Doctorate at the Law Center of the University of Southern California in 1989.
Mr. Argue was a construction litigation Partner at Procopio, Cory, Hargreaves and Savitch LLP from 1989 to 2001, handling both defense and plaintiff's cases. In 1997, Mr. Argue became the head of the construction litigation department for the law firm.
Mr. Argue has considerable experience in real estate, construction and insurance matters. As a construction litigation Partner with the prominent San Diego law firm of Procopio, Cory, Hargreaves and Savitch LLP, Mr. Argue handled many cases involving litigation of complex, multi-party disputes. Mr. Argue represented both large developer defendants and plaintiffs in single-family construction defect cases. Some of his more notable cases are: (1) representation of plaintiffs in the largest verdict in San Diego County for a custom single-family residential construction defect case ($2.5 million), (2) representation of 84 plaintiffs in AAS v. Superior Court which was appealed to the California Supreme Court and changed the recovery of damages in construction defect cases, (3) representation of 300 plaintiffs in Marshall v. The Baldwin Company et al. for construction defect damages totaling over $25 million, and (4) representation of state-wide developer, The Grupe Company, in defense of construction defect cases throughout State of California. He is licensed in a number of different jurisdictions including California, Nevada, Washington, Colorado and Texas.
During 2004, Mr. Argue participated in a mediation externship with a distinguished Federal District Court Judge J. Lawrence Irving (Ret.). Judge Irving has handled numerous high profile mediation cases including E Coli litigation with Jack in the Box and Odwalla Juices, City of San Diego v. De La Fuente and World Com. In December 2004, Mr. Argue completed an intensive 40 hour mediation training program focusing on mediating the litigated case at Pepperdine Law School's Straus Institute for Dispute Resolution. In the summer of 2005, Mr. Argue completed a 36 hour mediation training program focusing on Mediating Complex Construction Cases at Pepperdine Law School's Straus Institute for Dispute Resolution. In May 2005, Mr. Argue earned his Mediator's Credential at the National Conflict Resolution Center (NCRC) in San Diego.
Mr. Argue has furthered his mediation training and experience by observing successful mediators including Judge Lawrence J. Irving (Ret.), Judge Herbert Hofman (Ret.), Attorney Ross R. Hart, Attorney Scott Slater Marcus, Attorney Craig Higgs, and Attorney Joseph Stein. In addition, Mr. Argue spent three days observing Attorney Randall Wulff in Oakland, California mediate a complex, multi-party construction dispute. Mr. Wulff is the top construction mediator in the United States and currently presiding over the property damage claims for the World Trade Center arising from the tragedy of 9/11. Mr. Argue continues to expand his experience and skills by taking mediation cases from the San Diego, Riverside and Los Angeles Superior Courts.
EDUCATION
San Diego State University – 1986

San Diego, CA

·

B.A. in Political Science, cum laude

·

Sigma Nu Fraternity, Outstanding Scholar

·

SDSU Varsity Golf Team
House of Commons – Jan. - June 1986

London,

England

·

Administrative Assistant to Member of Parliament

University of Southern California Law Center – 1989

Los Angeles, CA

·

Juris Doctorate

·

Top 20% of class

·

Notes and Articles Editor of the Major Tax Planning and Computer Law Journals

Calvary Chapel Bible College – 2001-2003

Murrieta, CA

Externship - Honorable J. Lawrence Irving – 2004

San Diego, CA
· Observation of retired Federal District Court Judge mediation practice
SPEAKING AND TRAINING
Construction Dispute Resolution Services Training Program in the Theory, Practice and Rules of Dispute Review Board, 2006
Construction Dispute Resolution Services Training Program in the Theory, Practice and Rules of Arbitration, 2006
Bar Association of Northern San Diego County, "Effectively Resolving Construction Defect Cases", Panel Speaker with Judge Stephen Sundvold and Judge Ronald Styn, 2006
International Academy of Mediators Conference, "Meeting of the Minds", 2005
San Diego County Bar Association, Panel Speaker, Mediation of Construction Defect Cases, 2005
National Conflict Resolution Center, Mediator Credentialing Program, 2005
Pepperdine Law School's Straus Institute for Dispute Resolution mediation training program: Negotiation and Conciliation, 2005
Pepperdine Law School's Straus Institute for Dispute Resolution mediation training program: The Mediation Program, 2005
Pepperdine Law School's Straus Institute for Dispute Resolution mediation training program: Mediating Complex Construction Disputes, 2005
Pepperdine Law School's Straus Institute for Dispute Resolution mediation training program: Mediating the Litigated Case, 2004
National Conflict Resolution Center, Introductory Mediators Training, 2004
West Coast Casualty Annual Construction Defect Conference, Panel Speaker, 2000 and 2001
Mealy's Annual Construction Defect Conference, Panel Speaker, 2000
San Diego County Bar Association, Panel Speaker, Impact of AAS v. Superior Court on Construction Defect Litigation, 2000
Orange County Bar Association, Panel Speaker, Aftermath of AAS v. Superior Court, 2000
Clark County Bar Association, Panel Speaker, Pursuing Construction Defect Cases – Plaintiff's Perspective, 2000
PUBLICATIONS
Nevada Lawyer, Recent Developments of "Physical Injury Rule" to Construction Defect Cases, 2000
Condo Management Magazine, Stigma Damages and Construction Defects, 1998
National Law Journal, Real Estate Broker Disclosure Laws, 1995
BAR MEMBERSHIPS
California State Bar, Bar # 145134, 1989

Nevada State Bar, Bar # 6889, 1999

Colorado State Bar, Bar # 031418, 1999

Texas State Bar, Bar # 24029121, 2000

Washington State Bar, Bar # 30386, 2001
PROFESSIONAL AFFILIATIONS
Co-Chairman of Real Estate Section of Bar Association of North San Diego County (2006)
Construction Dispute Resolution Services, LLC, Panel of Construction Mediators
National Arbitration Forum, Panel of Construction Arbitrators
American Arbitration Association, Complex Construction Panel Arbitrator
San Diego County Bar Association's Attorney Fee Arbitration Panel
San Diego County Bar Association's Alternative Dispute Resolution and Construction Law Sections
Bar Association of North San Diego County's Alternative Dispute Resolution and Real Estate Sections
American Bar Association's Dispute Resolution Section
Nevada Bar Association's Alternative Dispute Resolution Section
Association for Dispute Resolution - San Diego
California Dispute Resolution Council
Association of Business Trial Lawyers
Justice Ted Todd Inn of Court
COMMUNITY SERVICE
KAIROS – Donovan Prison Ministry, 2005-2006
Boys and Girls Club, San Diego, Board Member, 1999-2001
Family Support Foundation, Mentor for Teenager, 1997-1998
The Wellness Community, San Diego, Club Wellness Board Member, 1993-1994
San Diego League, Board Member, 1990-1994
Counselor – Commonwealth of Massachusetts "Upward Bound" Program, Summer 1987
ADDITIONAL BIOGRAPHICAL INFORMATION CAN BE FOUND AT WWW.ONEMEDIATOR.NET